A Penthouse in the Clouds called Satellite City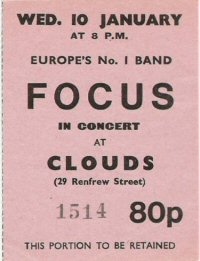 Perched on top of the Apollo, initially Clouds Disco and then the renamed Satellite City was a little night club that saw a number of gigs by well known artists. Simple Minds played their first ever gig at the venue which also hosted Fumble, Elvis Costello, Stone the Crows (supported by the Sensational Alex Harvey Band) and Midge Ure's Rich Kids.

Salvation who later became Slik were regulars at Clouds, playing covers of current hits to the enthusiastic Glasgow punters. Jim McGinlay of the band wrote "I think being booked at Clouds so often was the making of us. It's one of the most popular discos in Glasgow, and word gets around up there when a group gets on well at Clouds. Bill Martin had been told about us because Phil Coulter was working with Billy Connolly, and Billy came up to Glasgow to see us at Clouds."

The Simple Minds gig was as support to Steel Pulse, as well as Rev Volting And The Backstabbers (later became Fun 4) and The Nu Sonics (later became Orange Juice).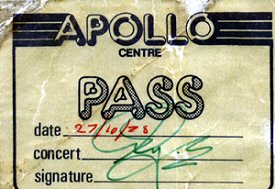 Jim Kerr appeared with a pudding bowl hair cut and sombre priest's frock coat.

"On the dance floor the standard disco clientele dance to standard disco records. On tables down the sides hippies (here for the reggae presumably) stick Rizla together. Reeking of new leather, punks patrol the perimeters, trying to look as subterranean as possible. Orange Juice still play a song about the event." Glen Gibson.

Jon Savage of Orange Juice wrote on one of the bands album covers how the group named an early song after the Apollo rooftops disco:

"Satellite City" was one of our early songs. It was the name of this really hardcore ned disco. We played there once and it was realy bizarre. Things were really random then. There was a punk scene of about twenty people who were great and then you didn't need to know all these dangerous people - neds and poser neds. We were very insular.'

British rock and roll harmony outfit Darts played at Satellite city in November 1977.

Resident DJ at Clouds was Radio Clyde's Tiger Tim Stevens who apparently used to wear a frog suit! Emperor Rosco's Roadshow was also a regular feature whilst Richard Park (Fame Academy) was a regular DJ for most of the Apollo years.

Also known as The Penthouse some of the 80's major outfits performed early shows there. Acts included Spear of Destiny (supported by the Orson Family) on 13th December 1983 and the Alarm (supported by Kissing Bandits) on 1st Feb 1984.

In the early 1980's Clouds was used for many other purposes including judo classes and even as a roller disco.