Apollo Memories 2012 Edition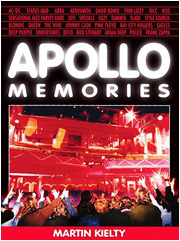 We have news from the best selling author Martin Kielty. Over to you Martin...

"Six years since the book first went on sale I'm delighted to announce the 2012 Revised Edition of Apollo Memories – and it'll be on sale just in time for Christmas.

The book achieved critical acclaim when it came out in 2005 and was named Book of the Year by the Daily Record, Critics' Choice by the Scottish Daily Mail and was even shortlisted for Scottish Book of the Year by WH Smith.

It's been out of print for a while now, so I'm chuffed to be bringing it back. And since Scott and Andy at the brilliant GlasgowApollo.com website have done such a brilliant job of helping put the Purple Palace back on the map, I felt it was only fair to add more value to the original book.

So the new version includes over 100 new stories from on stage, off stage and wherever the bouncers led you, stretching from the Apollo's early days as Green's Playhouse through its grand opening in 1973 until its closure in 1985.

New stories come from people including Steve Hackett (Genesis), John Coghlan (Status Quo), Martin Turner (Wishbone Ash) and Wilko Johnson (Dr Feelgood). House DJ Tom Russell has more to say and there are more backroom revelations from some of the men who managed the grand old shack.

But, as ever, it's really all about the Glasgow choir. I've gathered dozens more memories from the people who made the Apollo what it was: the people who queued outside, bought tickets, dealt with the smell and the purple glitter, evaded the bouncers (sometimes) and lived to tell the tale over a quarter of a century later.

If you'd like your story to be in the new edition of Apollo Memories, there's just about time to make it happen: email martin@martinkielty.com before Friday, November 25, and I'll do all I can to crowbar you in there. Photos welcome too.

As a special offer to those who keep the legend alive, the book is on sale at a 20% discount with delivery guaranteed for Christmas if you order before December 5 and live in the UK. (Sorry, I'll try, but I can't guarantee Christmas delivery elsewhere.)

It's great to be doing it all again and I hope you'll join the fun!

apollomemoriesbook.com

All the best

Martin"