It is done! And it is away to the printer!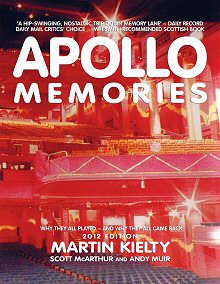 Apollo Memories (2012 Edition)



This just In from Martin Kielty

"It is done! And it is away to the printer! And I am going to sip a few beers then sleep, before I get up and get on with posting out copies of Billy Rankin's School of Rock and Old The Front Page. It never stops being glamourous, this lark…

The new edition includes over 15,000 new words, over 100 new stories and interviews, and over two dozen new unseen pictures. It's a serious upgrade to the 2005 edition and, once I've chilled out a bit, I think I'm going to be as proud of this one as I am of the first…

Thanks to everyone who joined the fun! Launch details coming soon, and remember you can buy for Christmas and get 20% off if you order before December 5"


CLICK here to read more and order.