A new edition of Apollo Memories!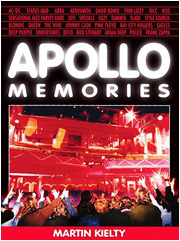 A new edition of Apollo Memories is currently being prepared, with publication planned for November 2011.

From ABBA to Zappa the Glasgow Apollo was a key stop in every band's world tour. The legendary 18ft high stage and the bouncing balcony pulled musicians and fans from across the globe to the Scottish city centre for 12 incredible years.

The former Greens Playhouse was such a memorable place that dozens of bands recorded live albums there, and outfits like Status Quo, AC/DC and the Sensational Alex Harvey Band called it home.

The book covers the history of the 'Purple Palace' from Johnny Cash's opening show in 1973 until the Style Council's closing gig in 1985 – and much more besides.

Music history and world news events are weaved together with first-hand stories told by the people who were there: the bands, the fans known as the Glasgow choir –and the infamous Apollo bouncers.