Welcome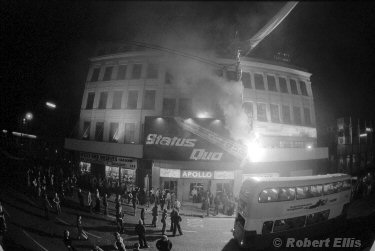 "The only thing that should happen to the Apollo is that it be torn down by rock fans brick by brick while a rock band play 'Scotland the Brave' at 50,000 watts, F*$% bingo long live rock!" Bob Geldof

Welcome to Apollomemories, the only website dedicated to Scotland's world famous Green's Playhouse and Glasgow Apollo.

The Apollo is unique in the memory of Scottish music, dance hall and cinema fans over the age of 50 and for many, the venue which was situated at the top of the City's Renfield Street from 1927 to 1985, is closely associated with Glasgow's history.

The Apollo provided artists with the opportunity to perform in front of one of the most discerning and demanding audiences in the world. Such was its reputation that one relieved act is reputed to have printed T-shirts saying: "....I played the Apollo and survived....".

Sharon Osbourne remembers the Apollo in her autobiography, Extreme; "...we were all really, really nervous....Glaswegians were said to be the most difficult of any audience in Britain, especially on a Friday night...when they got paid and got pissed. The show was unbelievable!". Perhaps Doogie White (Rainbow) got it right "..A main feature was that the Apollo had no bar. That meant you watched the bands and that created the wonderful atmosphere".

Performers such as Joe Loss, SLF, Roxy Music, Alice Cooper, AC/DC, Status Quo and the SAHB made their names at the venue and many including Paul McCartney, Rush, Gillan, Nazareth and The Stranglers recorded classic live sets there.

Tom Robinson feels that the audience was "just the wildest,warmest audience a band could ever want" whilst Pete Way ( UFO and Waysted) felt that the "...crowd in Glasgow dripped rock!".

David Coverdale's (Deep Purple/Whitesnake) memories: "....are of the magnificent Apollo choir and that CRAZY stage, and I still proudly display my little statuettes from our sold out shows there. Please send my best to your gang and thanks for the memories".

Rick Wakeman (YES) pretty much summed it up recently; "...the Glasgow Apollo is synonymous with birth of rock 'n' roll..." whilst Richard Park (music guru and Fame Academy headmaster) suggests that: "...the Apollo was simply magnificent and was the classic venue of its day...".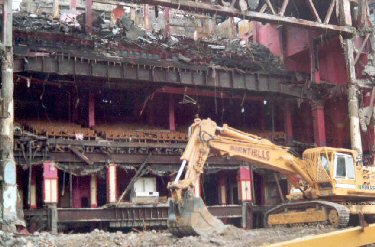 The venue's size and even its aroma are famous. However, there is no question that what made the place legendary was the people of Scotland.

Our aim is to provide a place where fans of the "Shed" (or the Appalling as it was known towards the end) can get together and explore the venue's history and share their memories.

Visit our Band Memories and Interviews sections to read exclusive contributions that we have received from more than 60 of the artists who graced the famous stage.

"Congratulations on what you have done with the website it is really amazing that you have had all this interest and all these great write ups. It's something really worthwhile which means a lot to a lot of people" Frank Lynch ; (who discovered Billy Connolly and who named and owned the Apollo).

Whether you put a cash donation in a "Jock's Box" during the 2nd World War; danced to Louis Freeman and his Playhouse Band; enjoyed the "Playhouse Girls" dance; laughed with Billy Connolly; jived to Bill Haley; screamed with the Bay City Rollers or The Osmonds; pogoed with PiL, chilled with Camel or headbanged with the likes of Iron Maiden and Led Zeppelin then we would like to hear your story.
2023 - Glasgow Apollo Merch
We do this website and our
Glasgow Apollo Live
streaming show for the love of it not for any other reason. If you would like to support us, buy a T-shirt, a Hoodie, a badge or one of our many other merch items at our shop
www.glasgowapollo.com/merch
your support is greatly appreciated.
The Glasgow Apollo 3d Project
We are a little late in mentioning this but we need to draw your attention to the fantastic efforts of Wullie Brown at apollo3dproject.com. Wullies goal is to recreate the Greens Playhouse/Glasgow Apollo in glorious 3d. Wullie has told us that his goals for the Glasgow Apollo 3d project are to create
Basic 3d shell model in re-cyclable plastic or card
Multi level 3d model allowing the owner to view; The stalls, lower circle, upper circle and ballroom by removing layers from the model
The creation of a portable Bluetooth speaker housed in a model of the Apollo
The creation of a portable DAB radio housed in a model of the Apollo
And ultimately. The creation of a immersive 360 degree Virtual Reality app allowing users to wander around the Apollo building and hopefully attend virtual concerts. Artificial intelligence will also be used to generate a 'real life' concert experience.
* All products will be designed, manufactured and packaged in accordance with the highest environmental standards possible.
Glasgow Apollo Live Get Together - 17th June 2022 LAUDERS BAR GLASGOW
Back in November 2020 with no idea what we were doing nor if anyone would be interested we decided to take things a bit further and started a live broadcast about the Apollo on Friday evenings. Much to our surprise, people tuned in and we have now produced over 80 hours of Friday evening live broadcasting.

A great night was had by all and we are planning another get together in possibly October 2023. Join our Facebook group to get the latest news on the final date in April.


2020 - 2021 - Glasgow Apollo Live YouTube Channel
The channel will feature curated video content about the Glasgow Apollo as well as full and edited copies of the Glasgow Apollo (live) weekly simulcast which takes place on a Friday evening at 9:30pm on YouTube, Facebook and many more streaming sites. Click this link to watch or click the video to watch a taster.

2020 - 2021 "F**K BINGO LONG LIVE ROCK" T-Shirts Available now.
Click the and order a T-shirt. The picture further down the page featuring our supermodels gives you an idea of what they look like. It'll definately look better on you though.

2017 - Rescued Recordings
It is with great pleasure that we announce the launch of a fantastic new website RESCUED RECORDINGS. They are a non-profit making project which was started four years ago, on a facebook page with the sole aim of trying to find and piece together as many lost recordings as possible made over the years at The Glasgow Apollo.

So far, they have managed to unearth over 250 recordings dating from 1971 to 1985 from friends on their Facebook page. The object of their website is not only to allow visitors to be able to get hold of these recordings, but also to make contact with anyone out there that might be able to help them add to their ever growing list of recordings already rescued from fellow Glasgow Apollo fans from all around the world. Visit them Rescued Recordings.

2016 - I Was There - The Story of the Glasgow Apollo

Please support Loud n Proud by simply buying a ticket and having a brilliant night out at our Hit Show 'I Was There' - The Story of The World's Greatest Rock Venue - The Glasgow Apollo click for more information
I Was There has been rewritten with new songs, new stories, and a new stage production. It is Bigger and Better and this is your chance to to see this show live and relive those magical days for one night or if you are too young to have been there be introduced to a piece of Glasgow Musical History through an explosive, funny and emotional Rock Musical.

'Remember the Apollo'
On the 13th of July 2013 a 'Remember the Apollo' night was organised at Pivo Pivo in Glasgow. Tickets were £3 (YES!! Back to Apollo prices!!). Two bands played the gig, The Seventh Sons a Dr Feelgood tribute act and Rank Berry a Southern Rock style band like CCR, and DJ playing tracks from bands who played the Apollo... which is probably the soundtrack your life! Well I know those songs are the soundtrack to my life. If you want to find out more about what happened that night join our Facebook Group and get blethering about all things Apollo.

Were You There? Participants Required For University of Glasgow Study.
If you would like to re-live your Apollo experiences and take part in this study, then please visit the Glasgow Apollo Research website at http://glasgowapolloresearch.wordpress.com (or Google 'Glasgow Apollo Research') and click on 'Take Part in the Research' Section.
Apollo Memories 2012 Edition Book Launch
The Apollo Memories launch event took take place at Street Level Photowork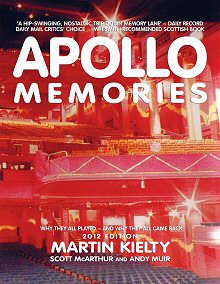 s, 103 Trongate, Glasgow on Friday, Feb 3. Author Martin Kielty, Ted McKenna from SAHB, Jo Callis from the Rezillos/Human League, DJ Tom Russell and Apollo managers Eddie Tobin and Colin Robertson talked about the Purple Palace to a backdrop of some music recorded live in the old place.
Surrounded by pictures taken by Harry Popadopoulous click exhibition to see, many of them in the Apollo. A great night was had by all.

Apollo Memories Book
The current Apollo Memories edition written by Martin Kielty, we have an exclusive excerpt from the book Apollo Memories or the book cover image to read it. (pdf 140 kb). To order and read more click Order Apollo Memories.

WERE YOU THERE???
What a fantastic night we had on the 18th of August 2010 at the Rock Radio Apollo 25 Celebrations... live music from Demon's Eye, Johnny Cash, AC/DC, Status Quo and Thin Lizzy tribute bands. you can see pictures of the gig taken by the lovely Claire on the Rock Radio web site and also in this gallery.

Thanks to everyone involved, epecially Ciarán from (ex) Rock Radio, thanks mate. great work.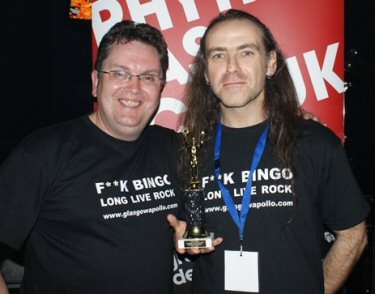 Here are Scott and Andy with a sold out trophy, presented by Rock Radio's Tom Russell.

Fancy a t-shirt like that? Click

Use Facebook? - meet other Apollo fans here - Glasgow Apollo.

"Oh Apollo on your final day, with your solid balconies in fine array, I wish you could continue on. But the Council says you must be gone." Garry Roberts (Boomtown Rats)

Contact us by email at Apollomemories