I Was There ROCKED the SECC Armadillo AGAIN in AUG 2010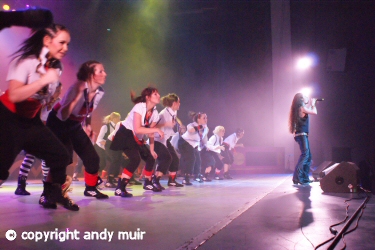 I Was There the tale of The Glasgow Apollo returned with New Songs, New Stories and a New Stage Production. It was Bigger, Better and Louder.

It's 25 years since The Glasgow Apollo closed its doors. Since then the legend of "The Greatest Rock Venue in the World" is still venerated by the bands that played at it and more importantly a generation of rockers who grew up with it.

The stories have been handed down over the years and have been kept alive with yarns about, the bouncers, the giants of rock who played there and the amazing atmosphere generated by the "Glasgow Choir"

Unlike the flood of modern day musicals theshow tells the story of not only one band or artist – it tells the story of the best rock bands ever to take to the stage, it features the greatest rock songs ever played and the central character is not a singer or a guitarist – it is the famous Glasgow Apollo, the greatest rock venue in the world.

It chronicles the passion that people had and still have for the Apollo theatre and describes the heartbreak of what it's like to lose a big piece of your youth and your culture when it closed its doors in 1985.

This was an opportunity for all the Apollo Faithful recognised by bands from all over the globe as the "Glasgow Choir" to get together for 25 years on.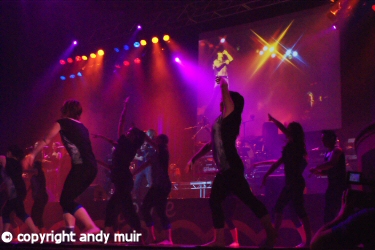 This fantastic occasion for them to proved they are still the noisiest and craziest audience ever. There are two types of music lovers – the ones who went there and the ones who wished they did.
This show is for every generation to come to and experience a little of what it was like "I Was There" transported you back in time and gives you a fast paced show with a cast of over 100 dancers, actors and singers.

The music stretches from 1967 to 1985. 18 years of powerful music that influenced many of the bands of today. From Deep Purple, Black Sabbath, Alice Cooper, AC/DC, The Rolling Stones, to Kiss, Aerosmith, David Bowie, The Who, Led Zeppelin and Free.

The show commemorated the 25th anniversary of the closing down of a venue that was part of Rock n Roll history. It was the Classic Rock Event of the Year of 2010.

Get ready to be wowed – Russell Leadbetter Glasgow Evening Times

What a show, I was knocked out – Tom Russell Rock Radio

They play classic rock brilliantly – Peter Ross Scotland on Sunday

I felt I was back at the old Apollo. How could it get better than that – Andy Muir Webmaster of www.glasgowapollo.com